Standard Bank Best Career 22
Standard Bank Best Career 22
Standard Bank Limited is a leading third generation private commercial bank which has a work environment that promotes diversity, embraces change and provides leadership opportunities to every team member. We are on a fast track within the banking industry and are seeking highly skilled professionals to take us even further.
Name of the Position: Branch Manager Operations
Designation: EO to FAVP
No. of Vacancies: N/A
Job Nature: Full Time
Job Location: Anywhere in Bangladesh
Job Description / Responsibility
• Responsible for the entire operations of the Branch, ensure every employees provides excellent customer services.
* Manage all other activities of the branch with high ethical standard complying with both internal and external compliance.
• Ensure operational efficiency of the branch through excellent service and costing cutting initiative
• Check transactions as per guidelines. Ensure all business transactions are in compliance with regulatory requirements.
• All Branch maintenance i.e. cleanliness, floor management, branch security, IT security etc.
• Act as joint custodian of vault keys.
• Perform duty as BAMLCO.
• Ensure on time submission of all relevant reports and statements to Regulatory Bodies and Head Office.
• Ensure employee productivity and engagement.
• Leading and development of Team.
• Work in close and effective relationship with Senior Managers and Divisional Heads of Investment Risk Management, Investment Administration, Trade Finance, Investment Banking, SMEs to ensure that the Investment requests for new and existing facilities are correctly prepared in accordance with Bank Policies and regulatory guidelines.
• Ensure due diligence in complying with Investment policy, regulatory requirement, and covenant & conditions advised in the sanction/Instruction letter/ Circulars/Office Orders.
Required Knowledge, Skills and Abilities
• MBA/Masters Degree from any reputed University having no 3rd division/class or CGPA less than 2.50 in any examination.
• Minimum 06 years of working experience in any reputed Islami /commercial bank along with at least 18 months experience as Branch Manager Operations. Islami banking knowledge & experience is preferred.
More Jobs:-General Pharmaceutical job
• Must have extensive experience in Islami/ Commercial Banking in the field of General Banking, Trade Finance, Operations and Investment Management. Islami banking knowledge & experience is preferred.
• Person needs to be an all-rounder-excellent relationship management skills, very sound knowledge base in Investment, Foreign Trade & General Banking.
• Smart, Team player, paired with agile mindset and can-do attitude, has excellent relationship management and leadership skill to lead the team from the front.
• Computer literacy & fluency in English is desirable.
• Must be willing to work in any branch of the bank
• Age should not exceed 40 years as on 01.02.2022.
We are an equal opportunity employer, however reserves the right to accept/reject an/all applications. Any persuasion and falsification shall be treated as disqualification.
Application Deadline: March 15, 2022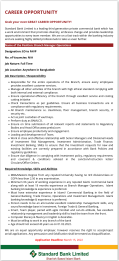 Standard Bank Best Career 22 Standard Bank Best Career 22 Standard Bank Best Career 22 Standard Bank Best Career 22 Standard Bank Best Career 22