Information on the Ukraine-Russia war
Information on the Ukraine-Russia war
The capital of Ukraine —– Kiev
Currency of Ukraine—– Hryvnia
The current President of Ukraine —- Ovolodimir Oleksandrovich Zelensky
Recently (February 21) Russian President Vladimir Putin recognized which two regions of Ukraine as independent states?—– ‌Dovnetsk and Luhansk.
In which part of Ukraine are Donetsk and Luhansk located? —- In the Danvas region of eastern Ukraine.
Russia launches military operation in Ukraine — February 24, 2022
When will Russia occupy Crimea from which country? – In 2014, from Ukraine.
What is the name of the president and capital of Ukraine? The name of the president is Volodymyr J‌lensky and the name of the capital is Kyiv.
Who is the head of US-led NATO? — Jens Stoltenberg.
Engineer Hadisur Rahman is the name of the Bangladeshi sailor who was killed in a rocket attack on a ship stranded in a Ukrainian port.
Read More:- Bangladesh and united nations peacekeeping
The port of Alvia is located in —- the Black Sea.
The capital of Russia is — Moscow
The currency of Russia is — the ruble
Chernobyl nuclear power plant – on the border of Ukraine and Belarus
How long did Russia occupy Crimea in 2014?
Where the Orange Revolution took place – in Ukraine (2004)
Location of Ukraine – Eastern Europe 16.
Bangladeshi ship 'Prosperity of Bengal' (with 29 sailors) stranded in Ukraine's port of Alvia.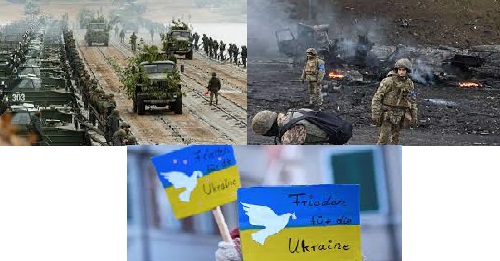 Former Ukrainian President Petro Poroshenko has called Russian President Vladimir Putin the "Hitler" of modern times.
First day of peaceful meeting between Russia and Ukraine in Gomel region of Belarus – February 28, 2022.
The United States, the United Kingdom, New Zealand, Australia, Taiwan and Japan have announced international sanctions on Russia over its attacks on Ukraine.
Russia is excluded from all international competitions by the governing body of football (FIFA) and the European football governing body (UEFA) 28 February 2022.
At least 14,000 people have died in the war so far (the war continues).
Non-fatal injuries at least 20,000 people (fighting continues)
About 2.7 Million Displaced (War Continues)
Building destroyed at least 17,000 (fighting continues)
Property damage 119 billion (war continues)
Information on the Ukraine-Russia war Information on the Ukraine-Russia war Information on the Ukraine-Russia war Information on the Ukraine-Russia war