Circular North South University (NSU) 22
Circular North South University (NSU) 22
CAREER OPPORTUNITY North South University (NSU), the first private university in Bangladesh, seeks applications from candidates with required qualifications and experiences following position:
Assistant Director (Public Relations) : 1 (one) position
Please read the full job description carefully to see if you have the skills, knowledge and experience that we are looking for. Only eligible candidates will be contacted by NSU for interview.
• Word processing, Graphic designing, Desktop Publishing (DTP)
• Assisting in content development for NSU website
• Assisting management of social media for NSU
• Contributing in the planning and producing NSU branding related materials
• Any other task assigned by Director PR
• A minimum of 5 (Five) years of experience in relevant field
• At least a Masters in Arts of Social Science
• Exceptional interpersonal skills High level of written and oral communication skills in English and Bangla
• Good rapport with media and communication sector
Age: Ideally 30 – 40 years
More Job:- Meghna group of industries
An attractive salary package, with Festival Bonuses, Group Insurance, Provident Fund, Gratuity and in-house medical services are on offer.
Other Terms and Conditions:
• Willingness to work on holidays and after hours as necessary.
• Third division/class/ equivalent GPA of the candidates in any educational level will not be accepted.
NSU reserves the right not to appoint anyone if suitable candidates are not found
Candidates should apply from his/her own e-mail address with a complete CV, photograph, copies of certificates, transcripts, and writing sample
(Bangla/English) by 20 March 2022.
Director (Administration)
NORTH SOUTH UNIVERSITY Plot# 15, Block# B, Bashundhara, Dhaka – 1229
Email: nsuhr@northsouth.edu, Website: www.northsouth.edu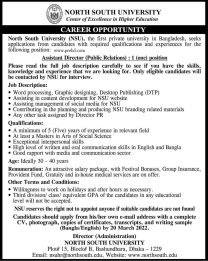 Circular North South University (NSU) 22 Circular North South University (NSU) 22 Circular North South University (NSU) 22